Monitor, manage and improve
Your Online Reputation
The state of online reputation can make or break you in the modern digital climate. Every instance affects whether customers will find, choose, and trust your business.
Everything 
Your Business Needs To Succeed In Online Reputation
Green Stick provides a set of solutions that helps your business monitor, manage, and improve your online reputation. Explore Green Stick's online reputation management solutions.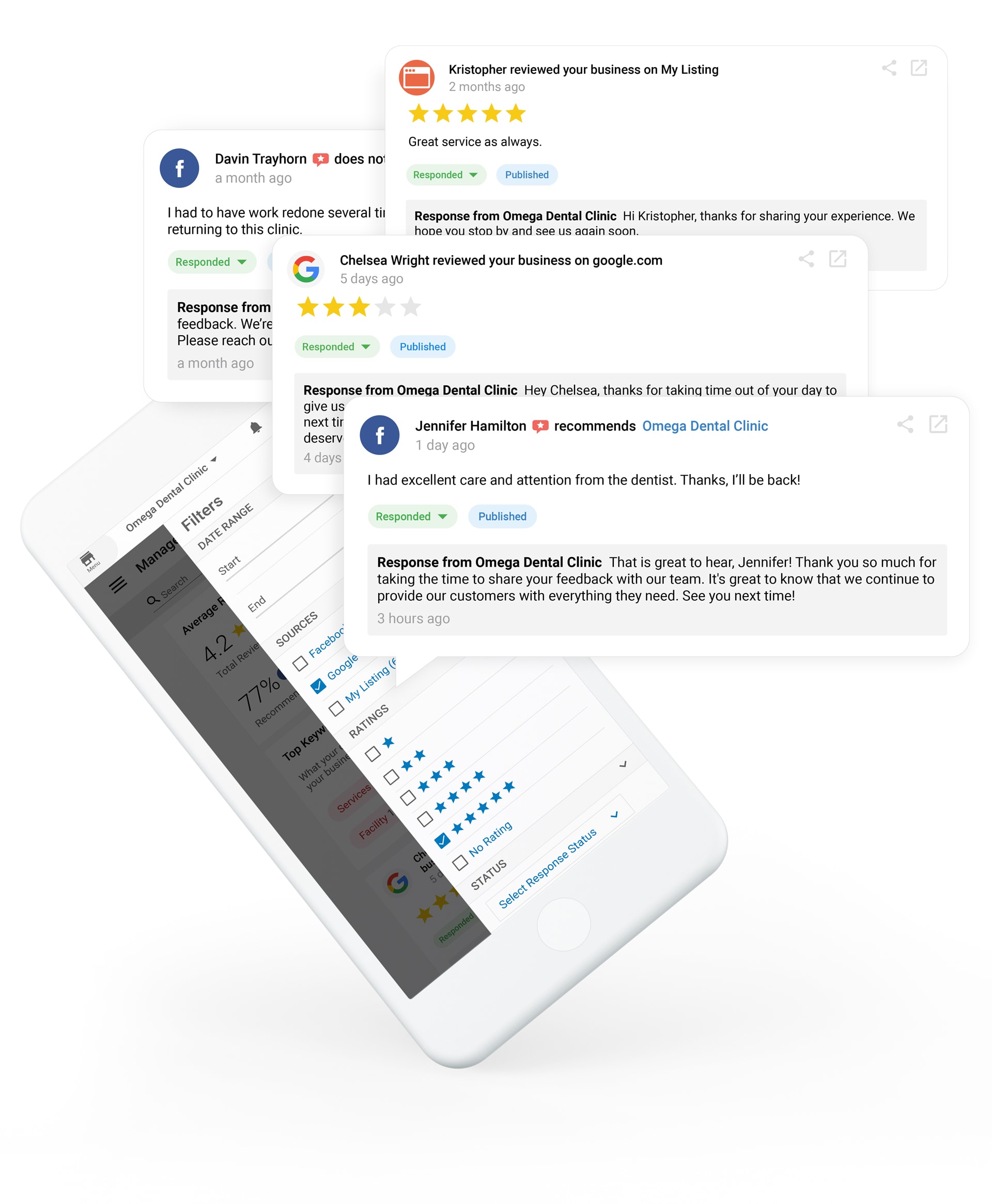 Never Miss An Online Review
Monitor all your customer feedback from 100+ sites, and receive email alerts for each new review. Filter by source and star rating to see reviews you find most critical. Benchmark against competitors. Track and complete review management tasks across your team. Create for single locations and brands.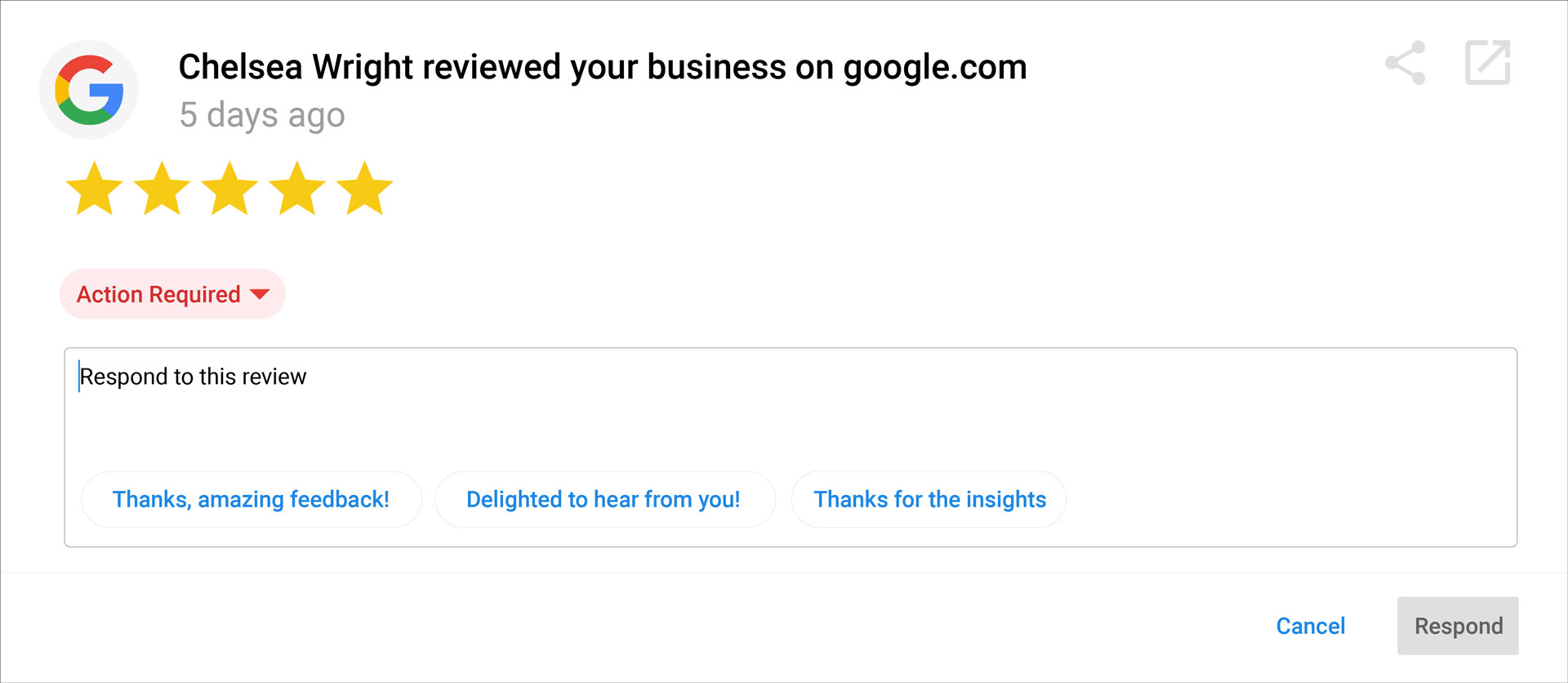 Respond Directly To Reviews From One Place
Streamline review responses with intelligent response suggestions that come ready-to-use. Address every review and keep happy customers engaged or acknowledge issues quickly. Respond to the most important reviews from the dashboard. Customize your own templates with dynamic fields. Utilize our expert team to handle review responses.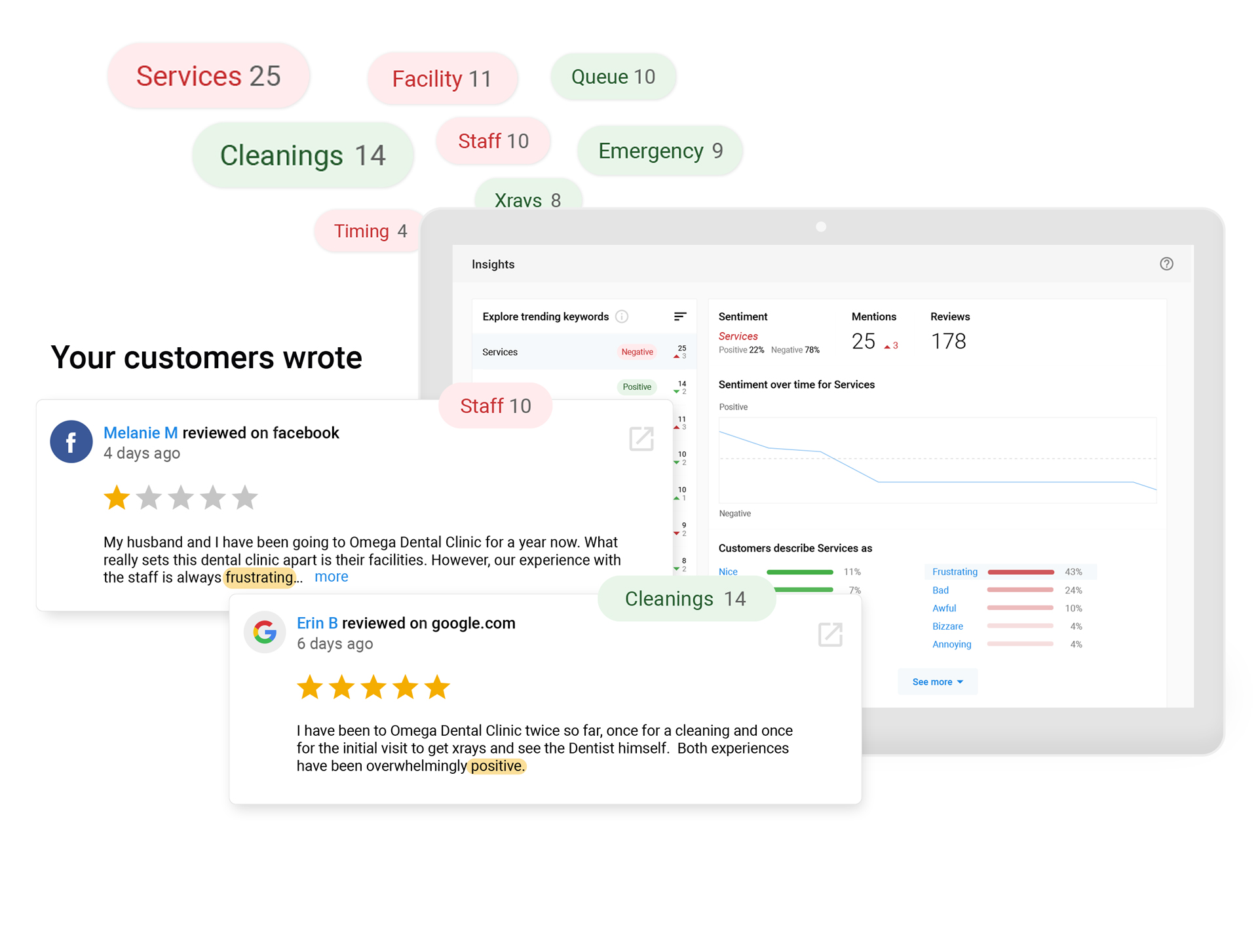 Get Your Business Repeat Customers & Earn Their Trust
Harness the power of artificial intelligence to analyze online reviews and get insights you might have missed. Easy-to-understand analytics help you make smart business decisions to grow your business! Discover top trending reviews. See a timeline of notable moments in customer opinion. Drill into specific reviews. Compare locations to understand brand sentiment as a whole.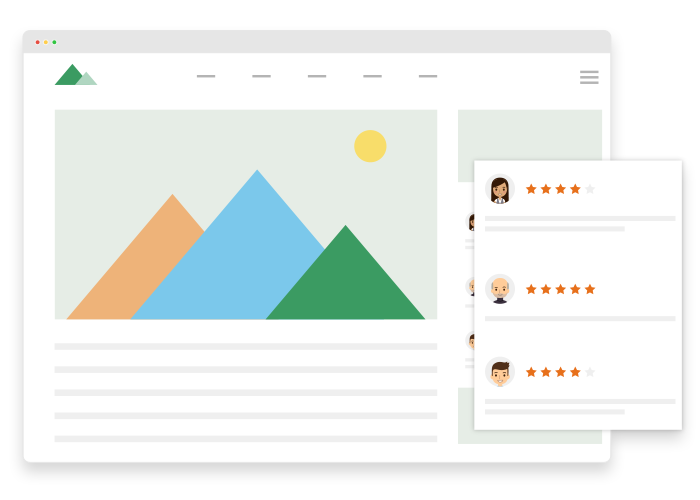 Use Real Reviews To Get More Customers
Allow happy customers to do the talking and help increase trust and boost sales! Display real customer testimonials on your website or share glowing reviews on social networks. Customize the widget for your brand. Easily plug the widget into any website to show off reviews anywhere. Click the Share button to show off the best reviews on social networks.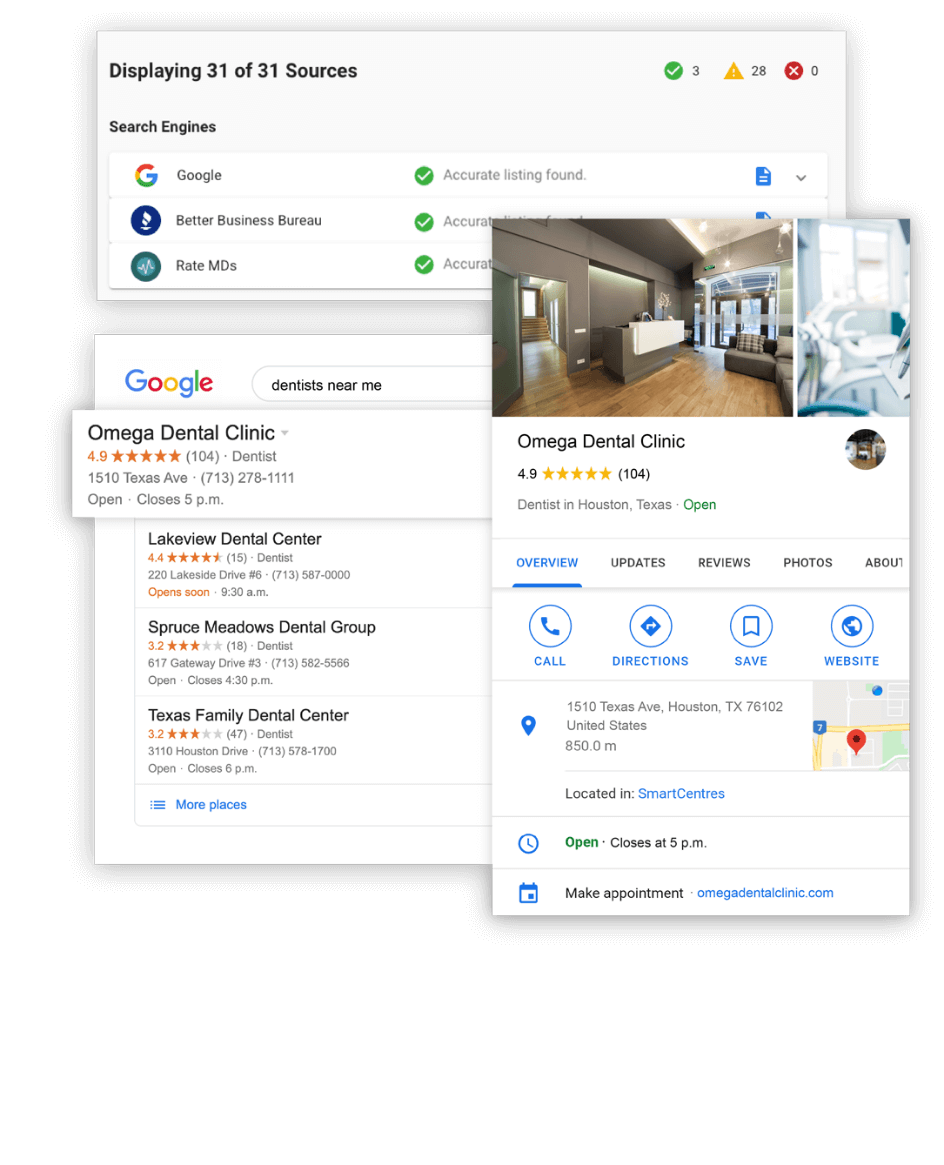 Have your business found across more than 100+ sources
See everywhere you're listed and everywhere you're not, no manual effort required! Ensure you can be found everywhere potential customers are looking. Follow prescriptive changes to make improvements. Compare the business to the industry. Utilize our expert team to handle listings management.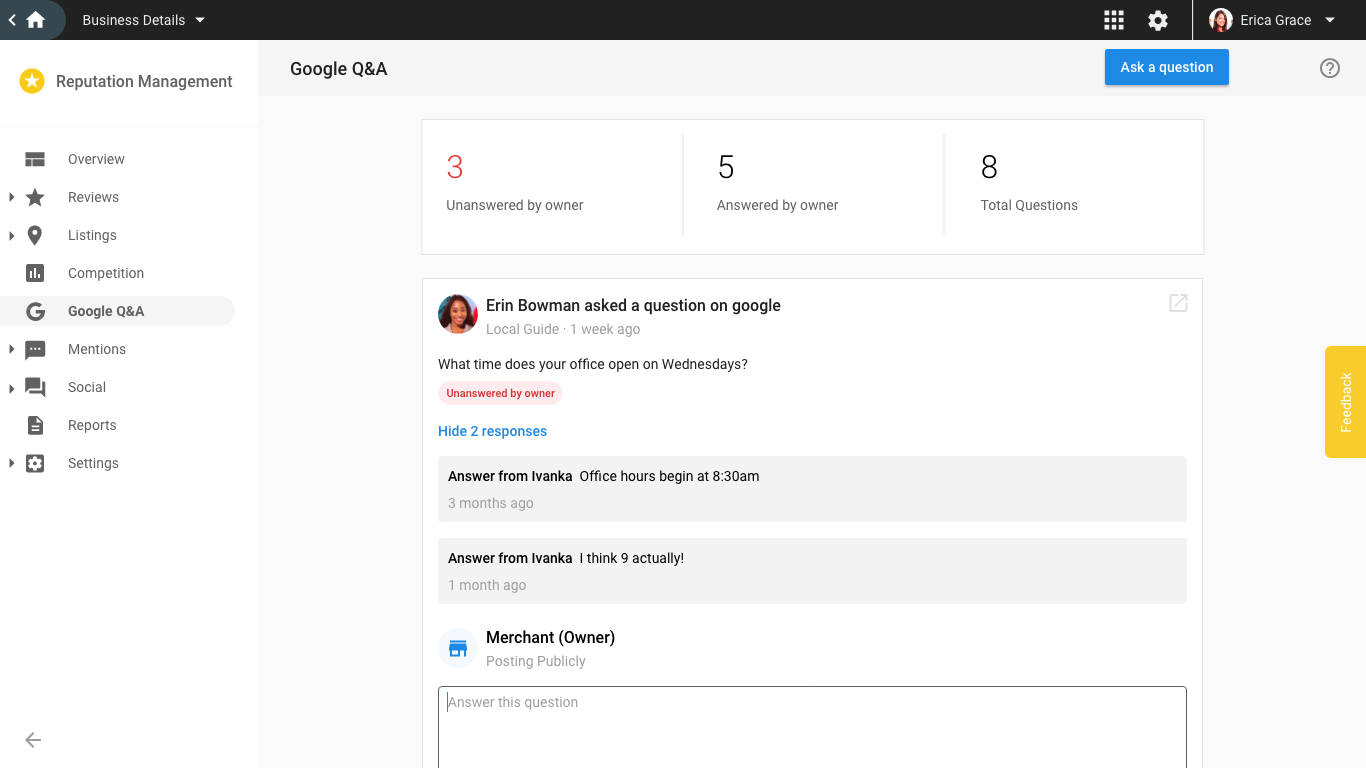 Manage ALL Google Q&A Activity
Just like responding to reviews, engaging with Google Q&A helps boost online presence and increase customer engagement. And because it's all in one dashboard, it's so easy to stay on top of! Be alerted to new questions for quick action. Ensure existing questions have accurate answers. Ask and answer FAQs to help customers find information fast.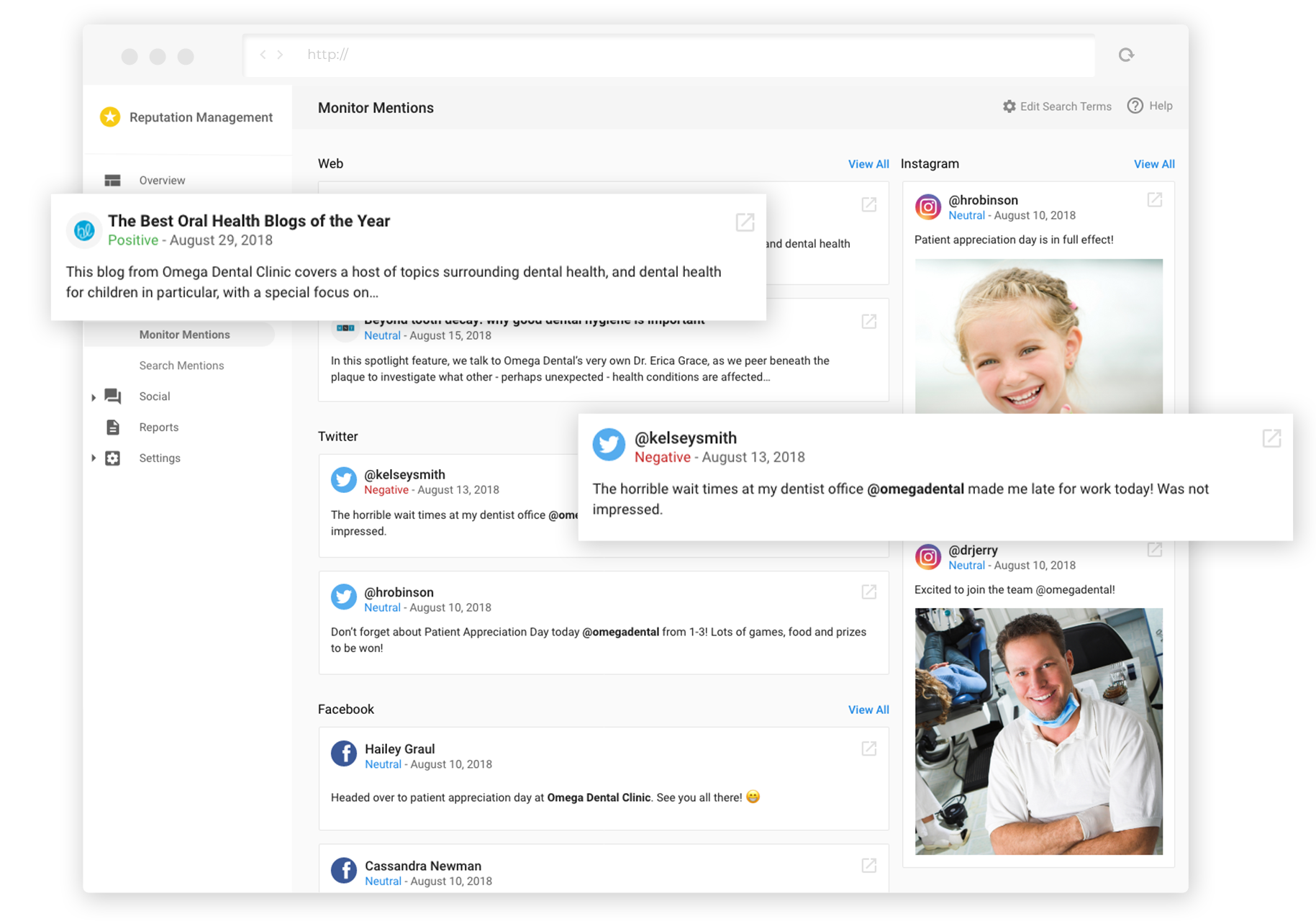 Scan The Web For Every Mention, Good & Bad
Reputation Management searches every nook of the web, including blogs, news sources, and social media networks and finds every mention of the business. Highlight the positive mentions or deal with the negative offline. Set up keyword search terms to receive industry content. Understand if the mention is positive, neutral, or negative so you can take action.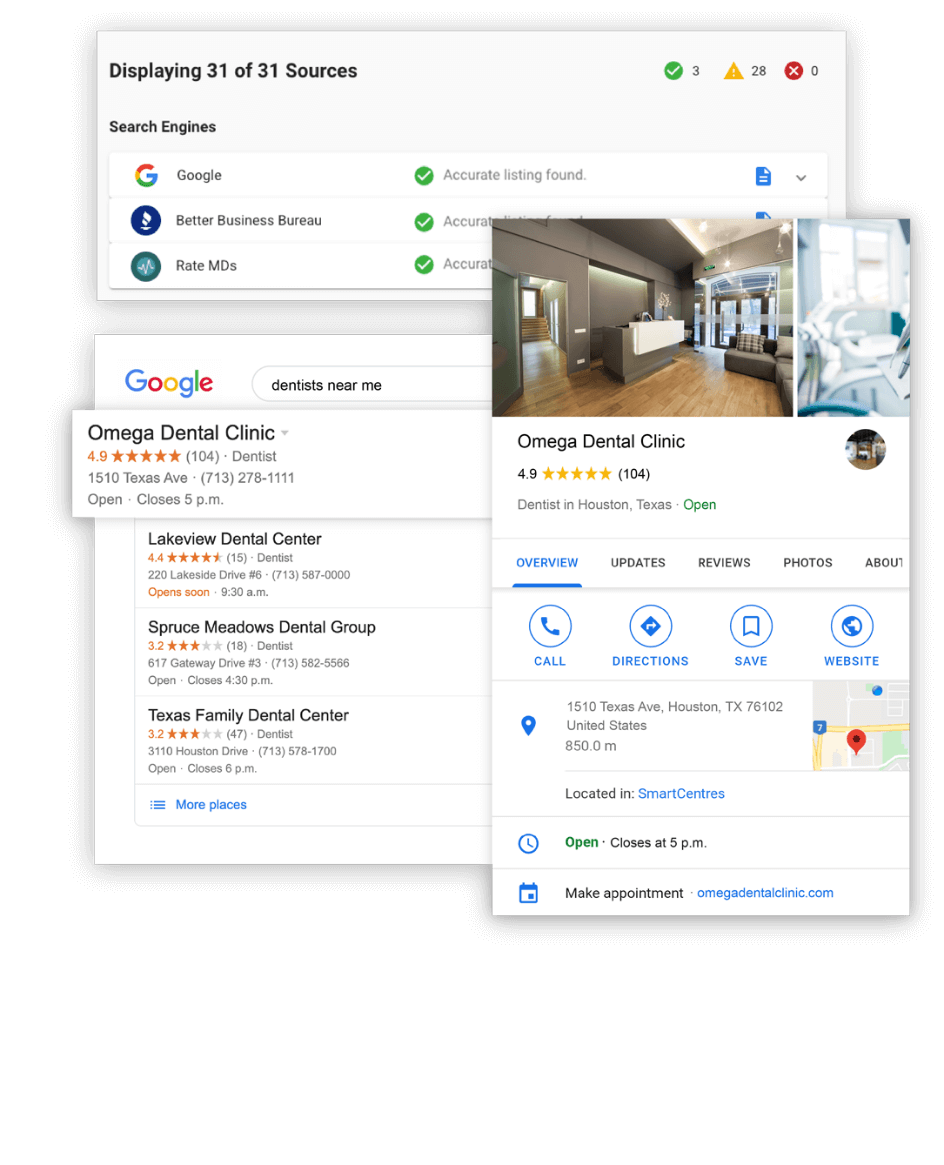 Keep An Eye On The Competition
Leverage competitive insights to help get ahead. Compare your business's reputation with industry leaders to help strive for continuous improvement. Compare search engine Share of Voice with top competitors. Track social audience engagement overtime across Facebook and Twitter. Benchmark against the industry average review ratings and listing accuracy.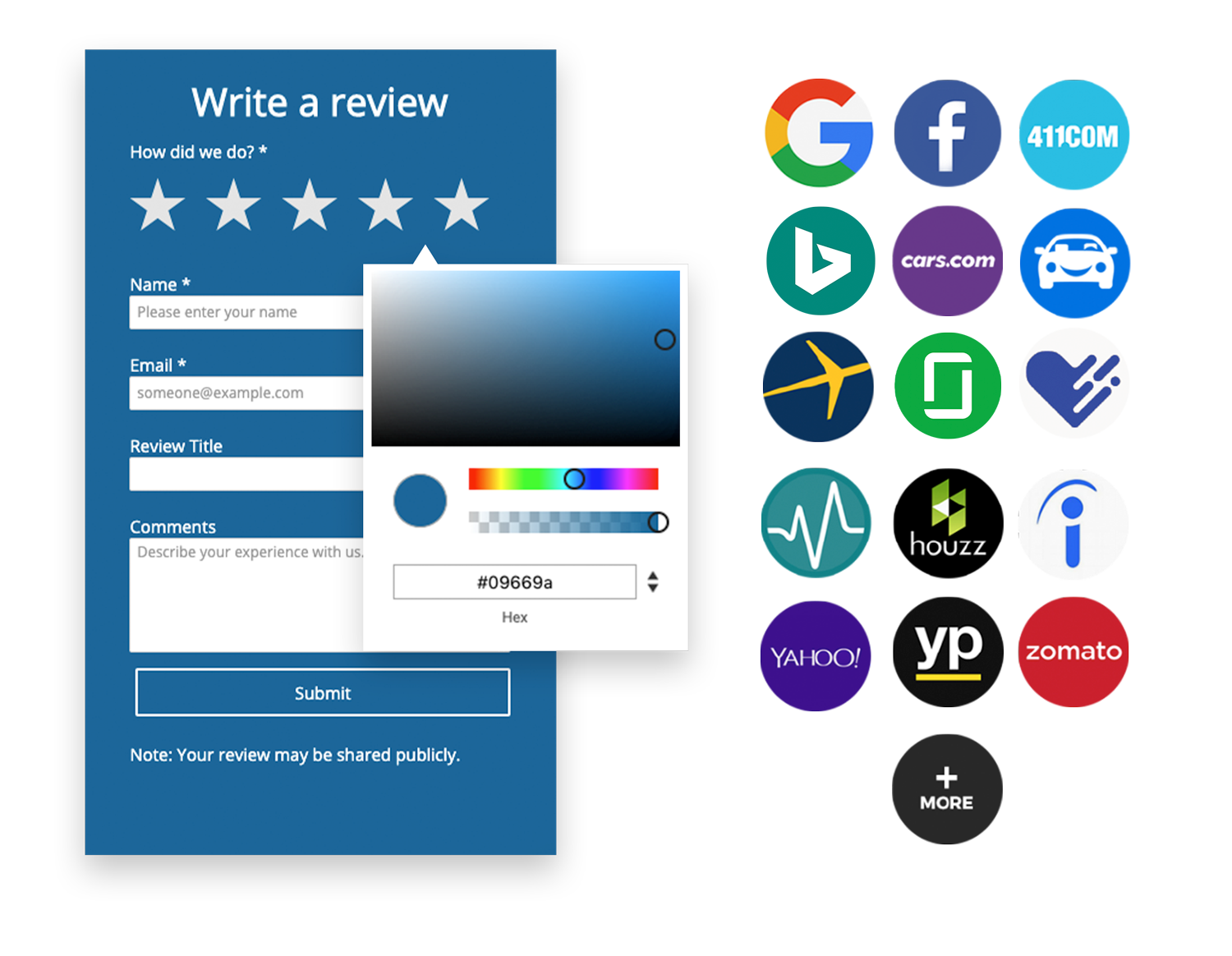 100+ Business Listings & Review Sites
411, Bing, Cars.com, CitySearch, DealerRater, Doctor.com, Edmunds, Expedia, Facebook, Glassdoor, Google, Healthgrades, Hotels.com, Houzz, Indeed.com, Judy's Book, Local Edge, Merchant Circle, N49, Open Table, RateMDs, Superpages,  SureCritic, TripAdvisor, TrueLocal, Vitals, Yahoo! Local, YellowPages, Zillow, ZocDoc, Zomato and many more!
What is reputation management? 
Online reputation management is the act of monitoring, influencing, growing, and managing what's being said about a business online. Maintaining a positive online reputation is more essential and challenging than ever. This is due to the ever-increasing volume and wide variety of channels where consumers search for information.
Consumers have tipped the balance of power. With more information than ever available at their fingertips, they can find out anything about a business—and fast! This shift to consumer-generated content and the transparency expected by businesses makes it essential to monitor and actively manage their online reputation.
Reputation management is at the heart of a greater digital marketing strategy. Complementary pieces of reputation management include review management, business listings, digital advertising, social media management, and SEO.
The Importance of Of 

Reputation Management
People (at least 88% of them) read reviews before they make a purchase decision. It's now the first step in the modern customer journey, and without a positive online reputation, people just won't trust a business enough to buy from them. However, it takes time to build a positive reputation, which is why taking a proactive approach to reputation management using reputation management software is essential. While it can take years to cultivate a healthy online reputation, it may only take hours or minutes to undo all that work. Did you know that only 13% of consumers would consider purchasing from a business with a 1 or 2-star rating? When negative reviews or comments happen online, it's essential to be on top of them using online reputation management software.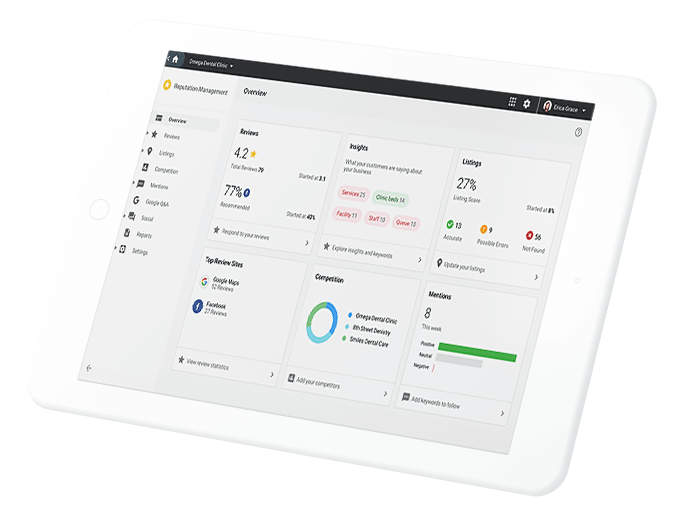 Online Reputation Management

Software Your Business Needs
Correct and manage online listings for 40+ sites
Monitor online reviews across 100+ sites
Respond easily to reviews with customizable templates
Compare the business to competitors and the industry average
Monitor employee's Twitter feeds
Monitor a feed of social media activity
Stay on top of new conversations with reports and alerts
Assign tasks to your team with the task manager app.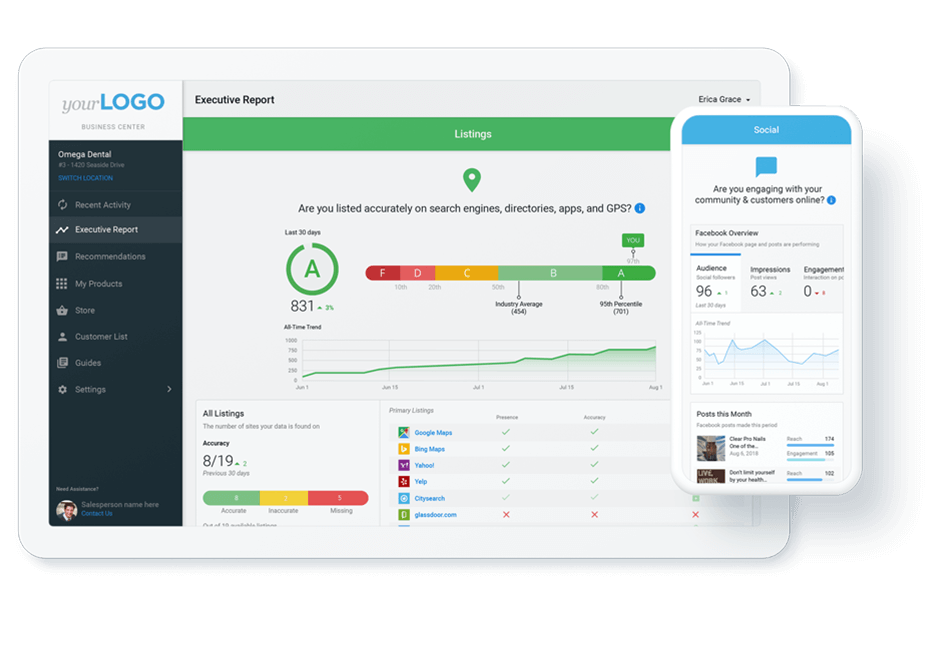 Add-On 
Products for Reputation Management
Social Marketing – Leverage the power of customer reviews to increase consumer trust. With Social Marketing, businesses can share their best reviews on social media, making customers their marketing secret weapon. 
Customer Voice – Send SMS and email requests to get more authentic customer reviews on the sites that matter most! New reviews will arrive in Reputation Management for you to monitor and respond to.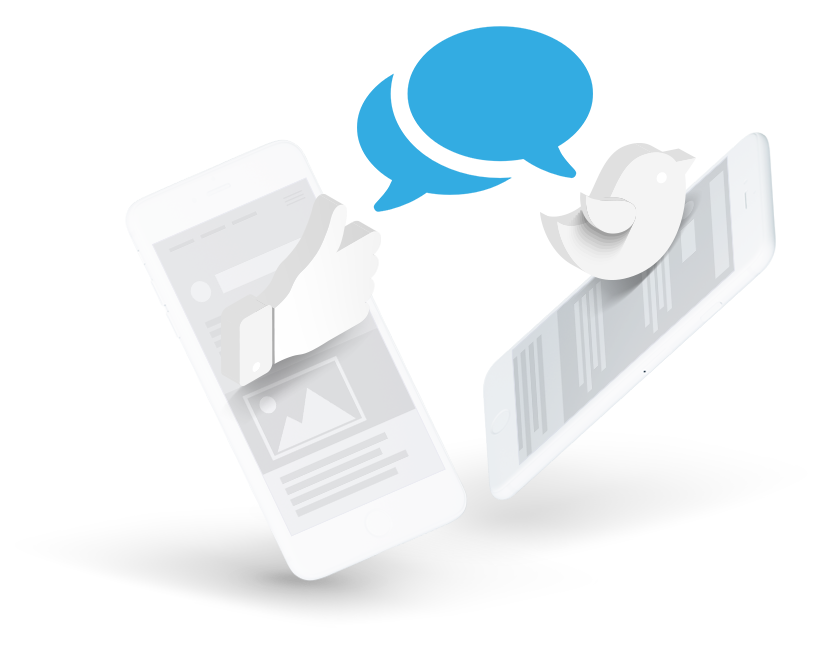 FROM OUR REPUTATION MANAGEMENT PROS
(Thank you for sharing your experience with Green Stick!)
"In a crowded competitive environment, the platform has enabled us to scale and improve our efficiencies for reputation management with an easy-to-use interface."
"Green Stick Marketing is by far the best investment I've made promoting our assets to the real world, hands down. If you haven't made the switch, you're doing yourself a disservice."
"Reputation Management was a really great introduction to all the other different digital marketing services and stacks. It was our core getting into digital."
"Chris and his team have been consummate professionals and are in the process of churning out a top-notch website. We now in discussions with them to begin to create our Social Marketing/Networking strategy and roll out. Thank you, Chris!"
Start Your Journey With Green Stick
Get Started For Free
Get started today, no credit card required. 
Schedule A Demo
Schedule some time with one of our product experts.
Book A Power Hour
Talk to a real strategist about Green Stick.