Local Listing Management Software & Services
Green Stick's listings software and services maintain consistent business information across the web, mobile apps, voice search, and more. Get your business ranking higher in search results and found everywhere your customers are looking.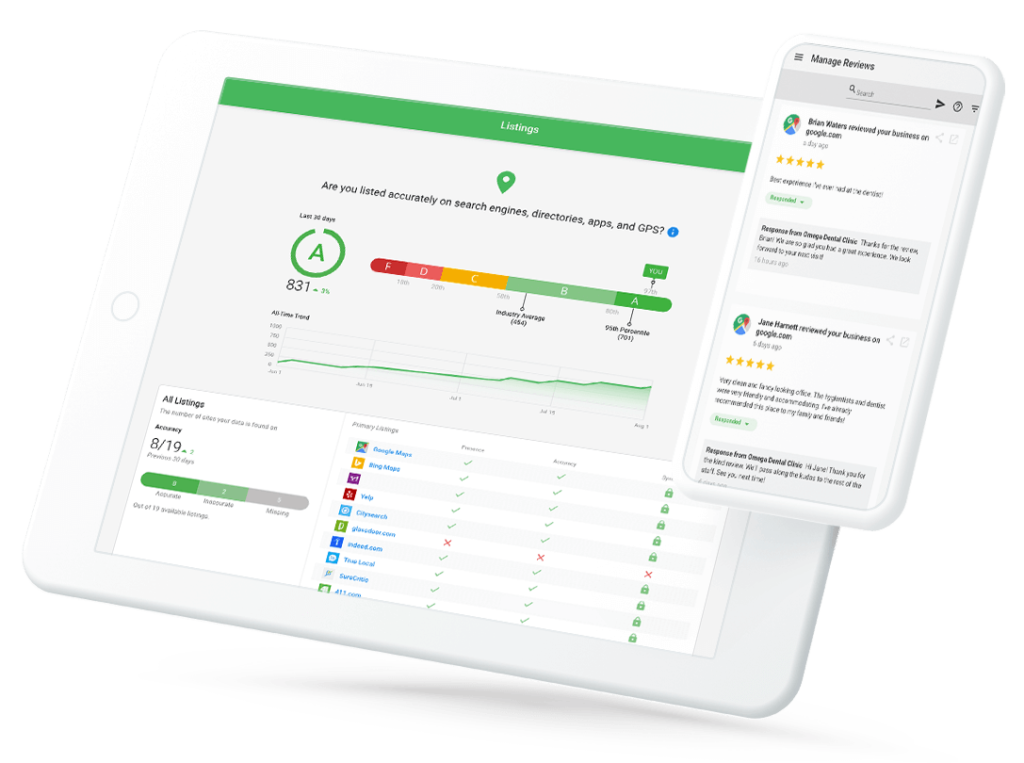 Get Found In Local Search
With more accurate listings, Google will rank your business higher in search results, meaning your more likely to be found over competitors.

Keep Customers Updated In Real Time
Keep your business profile information up-to-date over time and quickly sync out to publishers so your customers always have the most updated information. 

Own Your Local Listing Information
Connect to Google My Business, Facebook, Instagram, and Twitter for free sun and manage your data from one spot. 
Customer-Facing Listing Builder App
Connect to four high-traffic online publishers for free—Google, Facebook, Instagram, and Twitter. Ditch hours of manual work and multiple logins; your business can update business information from one place to sync to publishers in real-time.
Access Google My Business Insights from within the platform to see proof-of-performance on your Google listing. You can see how and where your Google listing is being found and what actions are being taken. As your local listing management strategy improves, you'll see the results through Insights.
Upgrade to Listing Distribution and Listing Sync Pro to publish local business information across high-traffic publishers and ensure business information is accurate everywhere customers are looking. You're are more likely to rank higher and be found above competitors.
The Foundation To Your Business's Accuracy Across The Ecosystem: Listing Distribution
Ensure your business information is accurate across the ecosystem—online, mobile apps, voice search, and more—ranking you higher in search and giving customers a positive experience.
Keep business information updated, consistent, and accurate overtime on a wide breadth of 300+ sources. The more consistent your business is across the ecosystem, the higher Google will rank them.
Manage from one platform. Simply enter updated business information and Listing Distribution does the rest. See proof-of-performance through citation growth over time.
Listing Sync Pro & Listing Sync Pro Powered By Yext
Quickly sync new information to listings by updating the business profile, keeping your customers in the loop faster than ever. 
Access reporting on the syndication of each listing and know when there are errors to fix. 
Protect over 3rd-party changes and manage duplicate listings, all from one place. 
Listing Scan Tool
Automatically scan the web to where your business needs help getting found and fixing errors. 
Quickly access a personalized report using your actual business data. 
Pinpoint other areas of improvement such as reviews on listings, social media, website, advertising, and more. Then discover the perfect solutions to meet your business's needs.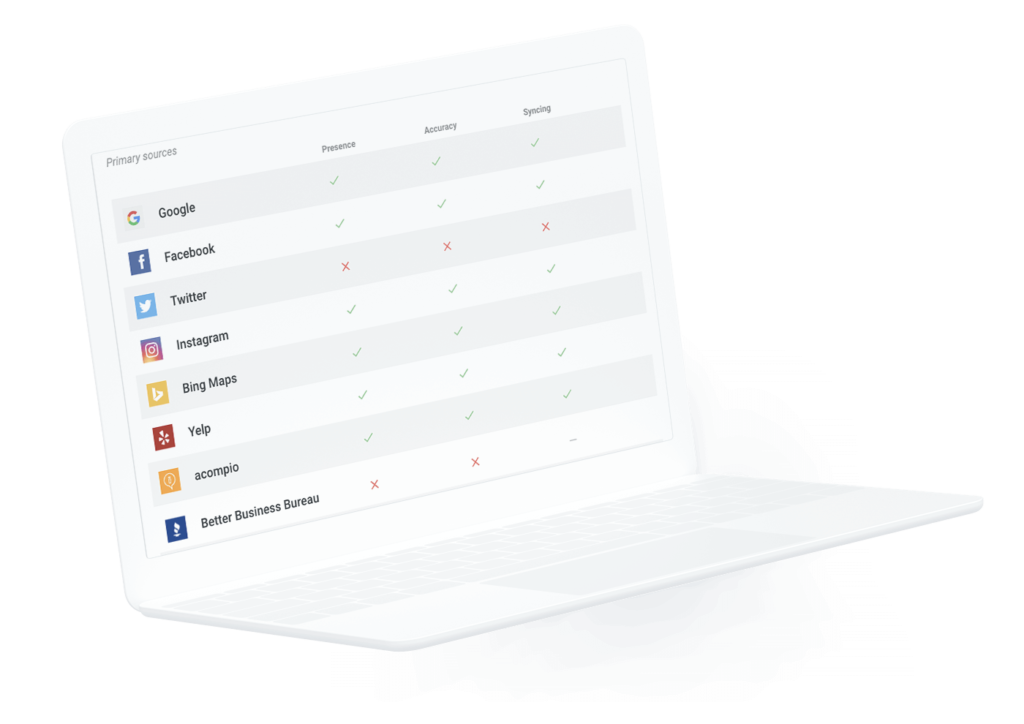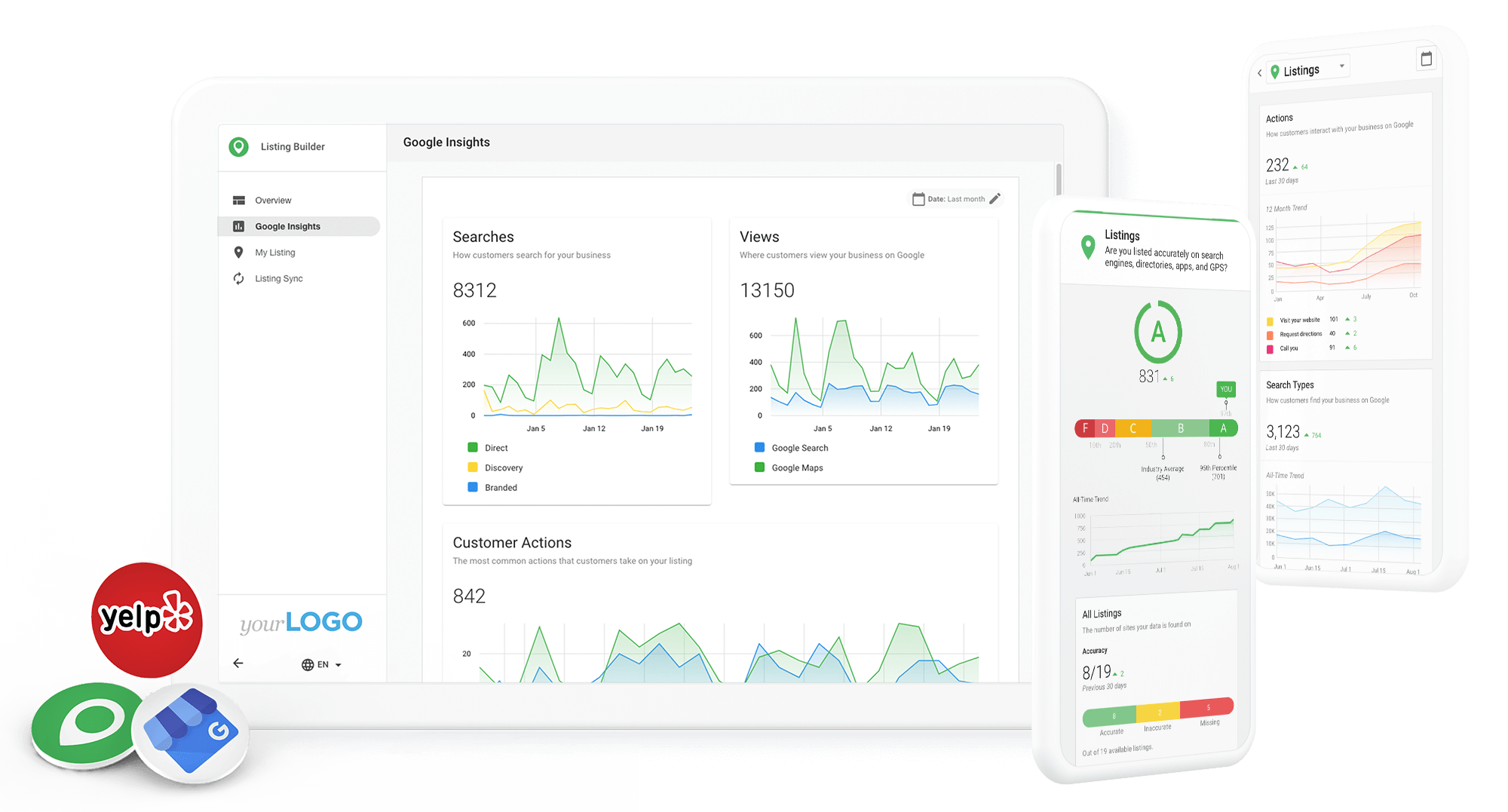 Local Business Listing Services
We strategize with your team in order for us to handle all customer communication with the same top-notch service you do. 
Listings are claimed quickly and effectively, especially with our automatic Google My Business verification. 
See your business's listing score improve. Easy-to-understand reporting proves what we provide your business is working. 
"It's always a pleasure getting together with these guys for any and all my online marketing wants and needs! Thanks Green Stick"
"I just started using GreenStick Marketing for my portfolio, and I could not be more pleased with the customer service and increased exposure I've seen in the last 30 days!"
"Awesome experience with the staff of Green Stick! They take the time and resources to fully understand your business and implement a schedule of events to keep you fully informed of the progress made each step of the way. Would highly recommend for website design, brand awareness and social media exposure!!!"
Get started with a free trial!
Get In Touch
Use our secure contact form below to send a quick message to one of our digital marketing strategists, who will get back to you within hours. What services are you most interested in to help optimize your business's online presence?